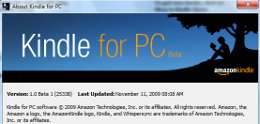 If you occasionally use one of the Kindle reading Apps (e.g. to read Kindle books on your PC) you may have been welcomed by the friendly message saying:-
"This version of the kindle reader has expired and cannot be used."
And your only option is to 'OK' the error and get dumped out of the reader application.
Not the best design from Amazon there then… so how do we fix this?
How To Fix It
The only solution to fix this, is to download the latest version of the reading app from here, and install it.
Why does this happen?
Not sure.
There is an option to auto-update the reader (under Tools/Options):-

But if you don't open the Reader for a while, and it misses too many updates (one, two, only significant ones?) it seems the auto update is blocked — and you have to go and download afresh from Amazon.
So not the best design, and pretty irritating if like me you don't actually own a Kindle, and just use the PC reader app once in a while for a book that isn't available any other way.
You Can Read Kindle Books on a PC..?!
Oh, and yes, for anyone who didn't realise… Do you need a Kindle to read Kindle books (.azw or .mobi files)? Nope.
How can I read azw files on my PC? Easy.
There are free Kindle reader apps for Android, iPad/iPhone, PC, Mac, Windows Phone 7 and even BlackBerry.
Download one of those FREE from here on Amazon.
Install it. Then just double click your azw file and it will open up in the Kindle reader, and off you go.