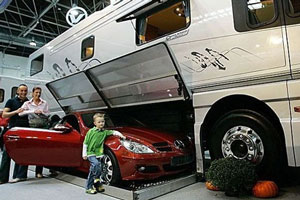 We may not all have the dream of retiring early and hitting the open road in a luxury RV.
But whatever your early retiree dream is, building passive income blogs has got to be one of the most popular (and still realistic) ways to achieve that dream.
Jose and Jill Ferrer started their dream road trip back in 2005. They went all in too – retired early, sold the house to buy a 40 foot luxury motor home… and now make an income blogging while on the road.
They just do a little bit every day when they feel like it, and their income just keeps growing – now around $700 a month.
But hang on a second – that's not passive income if they work every day?
Well they may work on their site every day, but guess what happens if they stopped…
$700 a month, That's What
They are getting paid now for what they have already done, so even if they stopped writing the income would still come in.
And that's one of the keys to passive income blogs. You have to put the work in first.
The work Jose and Jill are now doing will likely double or even triple their income by this time next year.
So How Do You Generate Passive Income?
You work your tail off first, then stop when you get to the income level you like.
Unlike a job, the income does not stop when you do.
But Where Do You Start?
It's often best to start with a passion, something that really interests and drives you. Something you love writing about.
But it doesn't have to be.
And yes, you could just start a free wordpress blog and off you go randomly writing. But why guess at any of it when you don't have to?
Follow A Proven Plan Instead!
It's not mentioned in the story, but I happen to know the complete 'business-in-a-box package' that Jose and Jill the RV warriors have used.
It's called Site Build It.
(I've used it myself too, so I also know it works)
Started Yet?
The most important thing though of course is to actually start. Dithering and making endless plans on pieces of paper will not build a passive income – that I guarantee.
Working 9 to 5 – that's no way to make a living 🙂