Free Internet Marketing Courses
Teach yourself web marketing or many other skills in just 5 days. And there's no charge for any of these quality courses or any limit to how many you can take.
Affiliate Masters Course
What's your passion? Your area of interest and knowledge?...
Finance? Cars? Health? Gardening?
No matter what your interest, the Affiliate Masters course will show you how to convert your passion and knowledge into income. An income that in time can replace your job, and so much more.
This course shows anyone how to become a high-earning affiliate champion.
Yes, a-n-y-o-n-e... it applies to any person who is interested in starting any kind of affiliate business. And not just those who want to "start."
Most affiliates start wrong and then just keep adding to that. Take this course and get your "affiliate vehicle" out of that dead end and onto a expressway.
NOTE: This is not just a few pages of airy, wishy washy rubbish - this is an information rammed, full on, 193 page ebook. And it's yours free to download right now...
Get the full course FREE right now
(in PDF format 1,535KB)
IMPORTANT: Right click the link and choose 'Save Target As..' to save the pdf to your computer to keep forever or get the .ZIP version here (1,203KB)
Netwriting Master Course
A riddle for you... What single feature of every Web site receives the least attention (in terms of time and money), yet literally is the most important factor for making the sale?
If you said, "Words," congratulations! You already realize more than those overfunded, underperforming dot-com companies! Because here's the bottom line on words...
No matter what you sell on the Net... If you want to sell more, write better. Use the right words. Because words sell, not graphics or technology.
Once you know how, it's simply not that hard. And after you finish this course, you will know how.
Get the Netwriting Master Course FREE
Pricing Master Course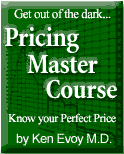 Fortune 500 companies pay pricing consultants $15,000 per product to deliver profit-maximizing pricing strategies. Other than the Fortune 500, no one prices optimally. Everyone leaves money on the table. The only question is...
"How much money am I leaving on the table?"
Or... ...What's worse than pricing an existing or new product badly? Wasting a year and a lot of money developing a product that no one will pay for!...
Do you have an idea for a new product? Discover a huge secret of top companies... do a feasibility study. You could save yourself a ton of time and money... or you could confirm exactly how powerful your idea really is!